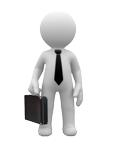 Do You Need IT Consulting Services?
Let's face it, managing your IT infrastructure is a daily struggle. It's also costly. But to remain competitive in today's hotly contested environments, you need to maximize your technology resources.
That can't happen if the latest technological advancements have outpaced your in-house IT staff, or your staff lacks the experience needed to deal with a difficult IT challenge. Deficiencies like these can stop a mission-critical IT project dead in its tracks.
Staff inexperience and a lack of knowledge are just two of the many reasons why you might need IT consulting services. Other reasons you might need IT consulting services are training on new software or technology, obtaining an objective view of internal procedures, and getting an unbiased review of your security measures.
Can IT Consulting Makes Sense?
Bringing in Nak Systems Inc. IT consulting services to work on critical, deadline-driven IT projects just makes sense. In fact, it can be the most cost- and time-efficient way to implement an IT project that drives core business functions.

Below are the key benefits you'll receive when you work with our highly skilled team of knowledgeable IT consultants:

Free up time to focus on critical business functions

Grain greater efficiencies of scale and purchasing power

Maximize the uptime of your IT infrastructure

Reduce costs/Cut operating expenses

Improve productivity through knowledge sharing

Get access to highly specialized IT talent

Generate a technology edge over competitors

Gain access to otherwise unavailable vendor support

Few companies can provide the depth of IT experience and service we provide.
Areas we can provide IT consultation on include Enterprise Wide Backup Solutions, Unified Communications, Converged Infrastructure, Server/Virtualization, Enterprise Systems, and Cloud Services.
Whether you're a small business, mid-level company or a major enterprise, we have the experience, expertise, and drive to provide the kind of IT consulting services you expect and need to stay competitive in today's hotly contested business environments.